23 maj 2011 | In
Crime
Ethics
Hate Crime
media
Moral Psychology
politics
|
Comments?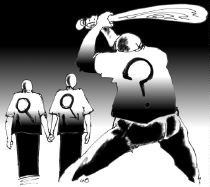 According to the expressive theory of punishment, the main function of punishment, as of law itself, is to express the values and norms of a society. To insist on certain kinds of behavior, and to disparage others. Ideally, the laws reflects the values of the people currently making up that society, as well as those tested through time, by experience and debate, from the original lawgivers (the drafters of the constitution, say) onwards. When you commit a crime, the punishment tells you and others something about how society feels about it.
When it comes to Hate Crimes, this aspect is very important: Not only do we express norms that prohibit assaults, but  we prohibit assaults motivated by, and expressing, prejudice. (In fact, a case can be made that it's the expression of prejudice, and not its motivation, that make hate crimes worse). Even if we do not punish prejudice as such – we have other ways of expressing that norm – we punish its manifestations. And part of the motivation for doing so is to disparage prejudice as such. We could say that we punish the criminal for the hate-motivated assault, thus expressing a norm against such acts, but the punishment also sends a message against hate/prejudice in general.
Now, does hate crime legislation reflect the values of society? Are people that committed to tolerance and diversity?
The point of telling the criminal what we think is presumably linked to his/her current beliefs. So what does the hate criminal believe? What do the racists among us believe about the attitudes among the rest of us?
Legislation, government and NGO campaigning and at least some media content explicitly express commitment to diversity and resistance to racial prejudices. I take it that most ideological hate criminals realize that they are a minority, and that is part of what makes them dangerous – they are in the minority, feel threatened, disregard certain societal values and believe that they are in the right. Telling them that hate crimes wont be tolerated is hardly news, and they are unlikely to care. The expressive function, then, would be failing with regard to the criminal, but perhaps succeed with regard to the broader population.
Some racists presumably believe that, in fact, most people agree with them, even if they (we) don't quite realize it. They blame political correctness for our current liberal and multiculturalist "opinions". This is very likely a persuasion that drives current populist right wing politics. They believe they only need to stir the inner racist in all of us, and that people, when it comes down to it, actually agree with them.
I'm pretty sure they are wrong about our conscious values. But are they wrong about us altogether? Among others (and more forcefully than most) the psychologist Jennifer Eberhardt argues that our prejudices are often unconscious and even at odds with what we explicitly believe. Even people who don't associate black people, say, with criminality, tend to be primed by viewing black faces to more quickly recognize images of weapons, for instance.
If such findings reflect a broad societal phenomenon, we may ask what our values are, and how deeply committed we are to tolerance and diversity. Most of our prejudices never makes it to our conscious minds, but they still influence our judgments and behaviors. Without noticing it, tend to look for evidence that confirms our unconscious beliefs, and disregard others. This is why it is so important that even the most confirmed enlightened mind among us take a look at not only the content of their beliefs, but the inner workings of their decisions and behaviors. Most votes for the right-wing parties are not directly motivated by racism, but by the rationalizations that unconscious racism make us more likely to accept.
That a belief is unconscious does not mean that it reflects a deep fact about us. Quite the contrary – the test of whether an unconscious belief is "truly ours" is to see what happens when it becomes conscious and tested against evidence and other beliefs. Do our conscious, considered values take precedence? Or do we adjust them to fit it our previously unconscious beliefs? What does happen when we become aware of such prejudices presumably depends on further psychological factors, but also by situational factors. Its uncomfortable to face ones failings, so perhaps there is a bit of pressure to deny that it is a failing. If people around you have a theory and a political program that incorporate your prejudice, there is some appeal in accepting that theory and that political program. It's very important, then, that we have the means to address these prejudices when they surface, and someway to work with them.
If we are serious about our commitment to diversity and tolerance, we need to confront prejudices on all levels, and express that commitment in no uncertain terms in order to counter the populist appeal mentioned above. As has been remarked for instance by George Lakoff, liberals rarely want to address the unconscious by unconscious means. We are suspicious of such manipulation, and prefer the open and honest debate and believe that "the truth will set us free". But it's much preferable when our values reflect our dispositions and emotions all the way down, when we not only believe and treat people of different races that they are equal, but instinctively react that way too. This may mean a lot more work than mere conscious conviction involves.
Does expressing our commitment to these values by enhancing punishment for hate crimes have an impact on unconscious prejudices? Or does it move our attention from the Reasons Why we should not be biased to Reasons having to do with fear of punishment? If it matters what the reason is why a criminal commits the assault, does it also matters why someone refrains from committing one? These are questions for another post.
No Comments yet »
Leave a comment