8 maj 2010 | In
Books
Emotion theory
Moral Psychology
Naturalism
parenting
Psychology
Self-indulgence
|
Comments?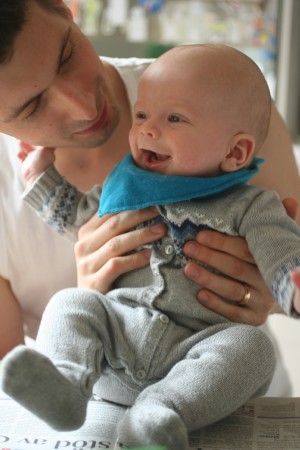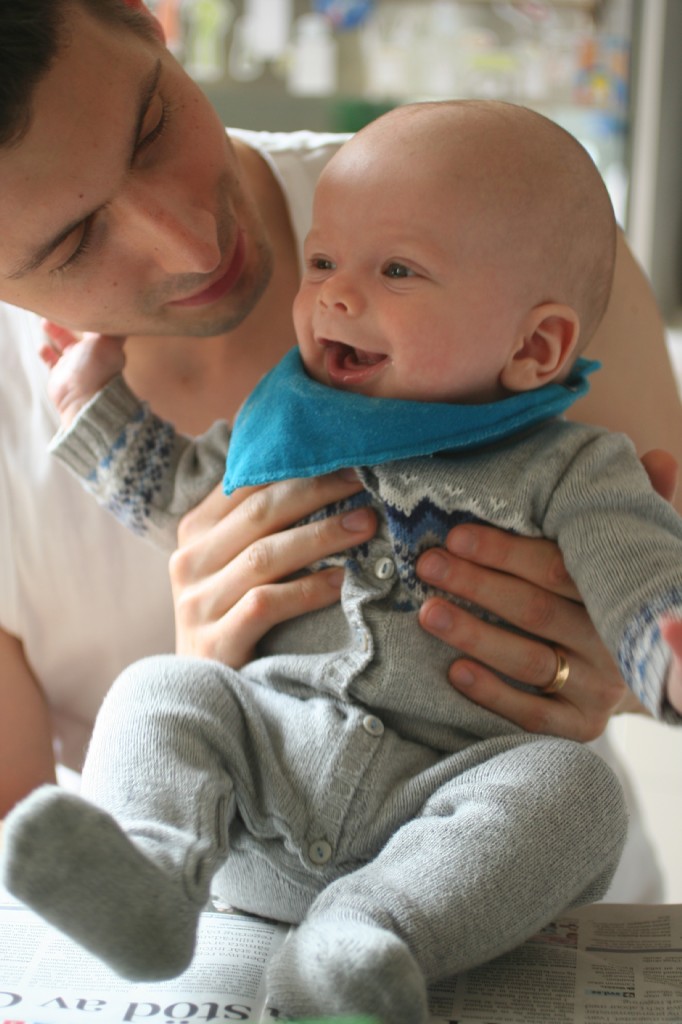 The last few years have seen a number of different approaches to morality become trendy and arouse media interest. Evolutionary approaches, primatological, cognitive science, neuroscience. Next in line are developmental approaches. How, and when, does morality develop? From what origins can something like morality be construed?
Alison Gopnik devoted a chapter of her "the philosophical baby" to this topic and called it "Love and Law: the origins of morality". And just the other day, Paul Bloom had an article in the New York Times reporting on the admirable and adorable work being done at the infant cognition center at Yale.
Basically, we used to think (under the influence of Piaget/Kohlberg) that babies where amoral, and in need of socialization in order to be proper, moral beings. But work at the lab shows that babies have preferences for kind characters over mean characters quite early, maybe as early as age 6 months, even when the kindness/meanness doesn't effect the baby personally. The babies observe a scene in which a character (in some cases a puppet, in others, a triangel or square with eyes attached) either helps or hinders another. Afterwards, they are shown both characters, and they tend to choose the helping one. Slightly older babies, around the age of 1, even choose to punish the mean character. Bloom's article begins:
Not long ago, a team of researchers watched a 1-year-old boy take justice into his own hands. The boy had just seen a puppet show in which one puppet played with a ball while interacting with two other puppets. The center puppet would slide the ball to the puppet on the right, who would pass it back. And the center puppet would slide the ball to the puppet on the left . . . who would run away with it. Then the two puppets on the ends were brought down from the stage and set before the toddler. Each was placed next to a pile of treats. At this point, the toddler was asked to take a treat away from one puppet. Like most children in this situation, the boy took it from the pile of the "naughty" one. But this punishment wasn't enough — he then leaned over and smacked the puppet in the head.
In a further twist on the scenario, babies (at 8 months) where asked to choose between still other characters who had either rewarded or punished the behavior displayed in the first scenario. In this experiment, the babies tended to go for the "just" character. This is quite amazing, seeing how the last part of the exchange would have been a punishment (which is something bad happening, though to a deserving agent.) It takes quite extraordinary mental capacities to pick the "right" alternative in this scenario.
If babies are born amoral, and are socialized into accepting moral standards, something like relativism would arguably be true, at least descriptively. Descriptively, too, relativism often seem to hold: we value different things and a lot of moral disagreement seems to be impossible to solve. In some moral disagreement, we reach rock-bottom, non-inferred moral opinions and the debate can go no further. This is what happens when we ask people for reasons: they come to an end somewhere, and if no commonality is found there, there is nothing less to do.
A common feature of the evolutionary, biological, neurological etc. approaches to morality is that they don't want to leave it at that. If no commonality is found in what we value, or in the reasons we present for our values, we should look elsewhere, to other forms of explanations. We want to find the common origin of moral judgments, if nothing else in order to diagnose our seemingly relativistic moral world. But possibly, this project can be made ambitious, and claim to found an objective morality on what common origins occurs in those explanations.
If the earlier view on babies is false, if we actually start off with at least some moral views (which might then be modulated by culture to the extent that we seem to have no commonality at all), and these keep at least some of their hold on us, we do seem to have a kind of universal morality.
We start life, not as moral blank slates, but pre-set to the attitude that certain things matter. Some facts and actions are evaluatively marked for us by our emotional reactions, and can be revealed by our earliest preferences. Preferences can be conditioned into almost any kind of state (eventhough some types of objects will always be better at evoking them), so its often hard to find this mutual ground for reconsiliation in adults and that is precisely why it's such a splendid idea to do this sort of research on babies.
No Comments yet »
Leave a comment