7 maj 2012 | In
Crime
Ethics
Moral philosophy
Moral Psychology
politics
Psychology
|
Comments?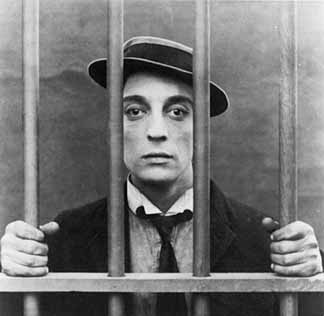 A suitable mode of thinking when it comes to legal punishment is in terms of functions. What functions are punishments supposed to perform? Let's restrict this discussion to prison sentences for now, but assume that it applies to other forms of punishment as well. In the literature, four functions are easily distinguishable. The question I'd like to raise is whether these functions can all be performed by the same sort of punishment, or if they come into conflict.
1. The first function is deterrence. A spell in prison is an unpleasant thing. At the very least, presumably, it's time spent away from your friends and family, from your projects in the world outside. If you care about not being cut of from those things, staying out of prison is a good idea. Of course there are all kinds of questions about how much worse time spent in prison is in relation to your life outside but let's leave that to a side for now and state this principle: In order to perform the function of deterrence, a punishment need to be in some way or another, unpleasant. Or at least believed to be so.
2. Another function performed by punishment is retribution. The offender have harmed someone, and perhaps harmed society as a whole as well. In order to settle this, some form of harm must be brought to the offender. This is supposed to satisfy some need of the victim, who has a grievance, and the punishment will somehow "balance the scales". Again, the punishment, it would seem, need to be in some way unpleasant. Unpleasantness is normally a bad thing, and bad thing distributed to people who commit bad acts, are good things, or justified, or whatever. I should point out that even if you (as I) do not think retribution provides any kind of real reason to impose a punishment, it is clearly one of the functions performed by punishment. If you're (like I am) critical of it, this means that a policy for punishment that makes it less likely to perform this function is no reason not to implement that policy.
3. A third function is rehabilitation: The offender should benefit from the punishment in the sense improve. Change his/her ways. This function is backed up by reasons of prevention, just like deterrence is, but functions in a slightly different way. The idea is that offenders offends because of some mistaken factual or moral view, because of some mental problem (a very large portion of current inmates have some mental disorder) or lack of skills suitable to make a honest living. Now this function does not require the stay to be unpleasant. Indeed, it would seem that it should not be unpleasant. Or perhaps rather – it should be unpleasant for the criminally inclined features of the agent, but not for the agent as a whole. It should, in lack of a more specific idea to express, be rewarding to improve.
4. The fourth function is simply that of protection. I.e. storage. Keep the offender away from the public for a while, as he/she is proven to be dangerous. This implies nothing about how pleasant the storage facilities should be.
The Conflict
Let's forget about retribution for know, and concentrate on deterrence and rehabilitation. Both aim to change behavior and to prevent future offenses. But there is this conflict – a deterrent needs to be unpleasant whereas rehabilitation may very well depend on being at least partly pleasant. Perhaps both functions may be performed if we have the idea that something unpleasant can be good for you. The unpleasantness of the stay in prison, then, would presumably drive home the message: don't do this thing.
Is punishment about learning?
Indeed, it would seem that both deterrence and rehabilitation is about learning, where the latter includes more of positive reinforcement, and the former solely on punishment. Punishment, as we know, is rather effective when it comes to learning people to avoid something very specific (i.e. committing this crime and get caught doing it). It's terrible at learning people why to avoid that behavior, in a way that generalizes. A sensible criticism of deterrence theories is that it provides offenders and would-be-offenders with the wrong kind of reason. Of course we shouldn't hurt people, but not because we would be punished if we did. Providing an unpleasant punishment provides offenders with the wrong kind of reason not to reoffend. It's extrinsic to the behavior we want to stop, which means it's contingent on the irrelevant risk of getting caught. Rehabilitation, presumably, would concentrate on getting the offender to recognize the actual reasons why they should not harm people.
This function – to drive home the actual message about moral reasons –  should primarily be performed outside of prisons, be taught in schools etc. Punishment, it could then be said, is about providing an additional reason for those who obviously don't care about others. We know there are people who don't care about us, and we need them to refrain from hurting us, so we better provide this reason or suffer the consequences. If we can't "rehabilitate" offenders, or merely if such offenders exist, this is fair enough. The problem, then, is how to have punishment perform both functions at once. It seems to be a problem that can only be solved if we let punishment depend on individual assessment. Justice, then, should not be blind to the character of the offender.
Two types of deterrence
An additional problem is the fact that the risk of an unpleasant punishment  may be part of the most effective strategy to stop people from offending. But a rather more pleasant rehabilitative strategy would, perhaps, be more effective at stopping offenders from re-offending. Not by deterrence this time, but by making offenders aware of the real reasons, and also to provide them with better options and the skills required to take advantage of these options.
The function of the unpleasant
Is it essential that punishments be unpleasant? I'm not going to rule it out. Threats, implicit and explicits, are common in most forms of education. If you fail an exam, there is the threat of having to take the class all over again. It would be good for you, provided that the class is important, and you would be better off taking the class again than you would be getting away with your ignorance. But maybe you don't see it that way, and that may very well be part of your motivation to study hard before the exam. It's the wrong kind of reason, but, with a little luck (educators hope) that reason will eventually bring you to recognize the right reasons. Recidivism rates suggests that this does not work in current prisons. The first part, providing the unpleasant surrounding, might work and some deterrence take place, but the transfer from the wrong to the right kind of reason rarely does.
Who should be in unpleasant prisons?
Threats and punishments are signs of failures. Society has failed to provide the right kind of reasons, and must now cope by providing instrumental ones. If we can learn the right reasons not to hurt one another, we should be taught this by living among others. If we don't, through no fault of our own, we should not be punished unpleasantly. This is a rather christian principle – if you have not been provided with the proper case for belief in God, Hell is not for you. Heaven isn't either, not yet anyway, but you won't burn. This strikes me as a sensible practice. But if we can't learn, if we're egoists or psychopaths, if we are people who can only see the point of refraining from a practice if there's negative on our own well-being, then presumably prison should be an unpleasant place, something to be avoided, and rehabilitation would have no point.
One last point, before I end this (still very open) post. In order to deter, prison should perhaps be believed to be unpleasant. And, if rehabilitation has not worked, offenders should keep that belief when the get out, in order not to re-offend. But there is no reason for prison to actually be unpleasant. If the threat of an unpleasant stay did not stop you, there is no reason to actually give you an unpleasant stay.
No Comments yet »
Leave a comment